As we start into this new year, you may be thinking about all the ways you can improve or simplify your life. Here is one thing that you may not have considered. At LHTC Broadband we can make paying your bill simpler easier just by enrolling in either eBill or Auto-Pay.
What is eBill?
eBill is a quick and easy way to manage your LHTC Broadband account. Simply download the eBill Mobile app from the App Store or Google Play Store.  Then you need to complete the registration process by creating a username and password. Next, you will be required to enter your account number (which can be located on your invoice and begins with 0) and your current amount due. Once your account is registered you can choose to pay your invoice monthly conveniently from your phone, tablet, or computer. You can even set up Auto-Pay so you never have to worry about a payment being late. eBill also lets you access current usage statistics and view historical data.
What is Auto-Pay?
Auto-Pay is a convenient option in which your bill will be paid automatically each billing cycle the due date using your default credit card or bank account. You can sign up using the eBill Mobile App, mentioned above or by contacting our business office. Once you are signed up for Auto-Pay your payment will automatically be processed at the same time each month without ever having to call in, log in, or mail anything in again. You can choose to continue to receive a paper bill, or you can opt to go paperless and receive an e-statement.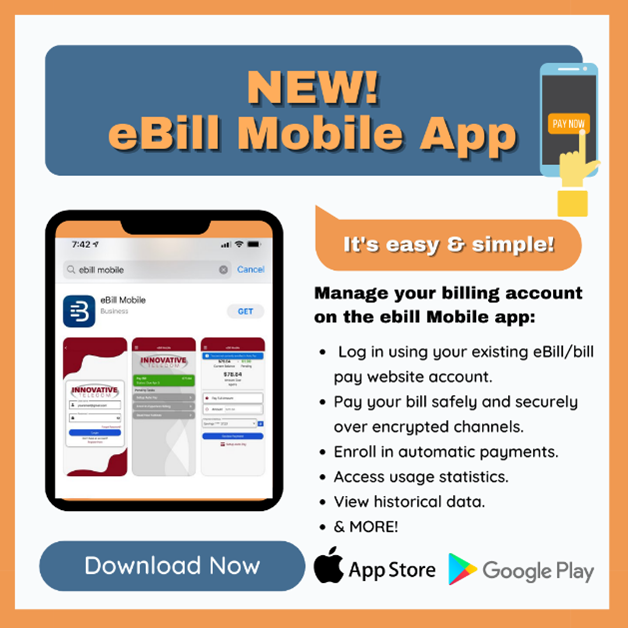 For more information, call your local business offices today. Our Customer Service Representative are ready to answer your questions and help you register your account.
Both services are not only safe and secure but are a simple and easy way to make your payment each month.
Let LHTC Broadband help to simplify your life this new year, sign up for eBill or Autopay and never miss a payment again.