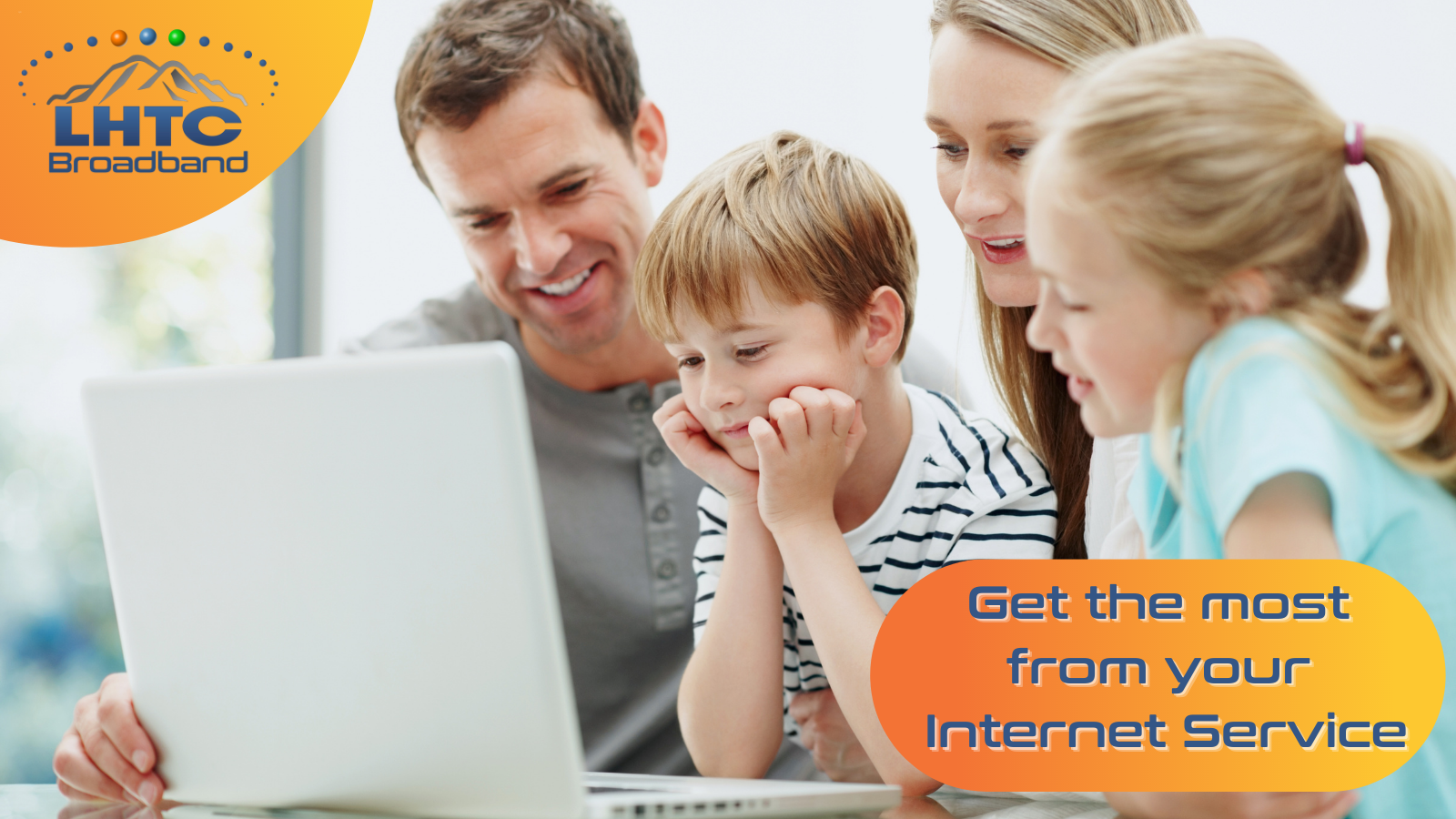 Life is a little different these days and we are all more dependent on our Internet service more than we have ever been before. Working from home, virtual school, family movie night, online grocery shopping, and the list goes on and on. Even though we are spending all this extra time at home, that doesn't mean we don't want to do these things faster. Your Internet service needs to be working for you. So how can you ensure your Internet service is performing at its peak?
First and foremost, know your speed. What speed Internet service are you subscribing to and what is it capable of doing? More importantly what are the download and upload speeds. Download speeds reflect how quickly you can access things online. Faster download speeds will load your websites, Netflix movies, and work email more quickly. While upload speeds tell you how quickly you can put things on the internet. Faster upload speeds will not only get that PDF attached to your email in a jiffy but also keep your beautiful smile looking picture-perfect during your Zoom call. One benefit to LHTC Broadband's Internet service is its speeds are synchronous, which means that you get the same download and upload speeds. Many other providers offer higher download speeds, but much lower upload speeds which can affect your experience.
Another thing to consider is data. Everything you do online uses data, with streaming and downloading large files typically using up the most data overall. Most internet providers allow you to use at least one TB of data each month. LHTC Broadband offers unlimited data so if you are backing up a large amount of data at the end of workday from home there is no need to worry about being interrupted by a data cap.
One of the most asked questions we received when customers are signing up for Internet service is what speed do I need? Our customer service representatives will ask questions about what you are using your Internet service for on a daily basis to help you determine which speed best fits your needs and budget. Now that many of us are working or attending school from home, those needs may have changed. Download speeds of 100 Mbps should keep most families productive at home for work and school. Then after work and school, it's enough speed to binge watch your favorite shows while your teenagers' game and video chat with friends.
If you have a smart home and a family that loves to spend most of their time online, whether it be for work or play, then you may want to consider 200 Mbps. This download speed is perfect for livestreaming and constant streaming. If you think you may need to increase you speed, you can upgrade your LHTC Broadband Internet service to the next speed for FREE for 30 days. Call our office today and ask about our Speed Upgrade special.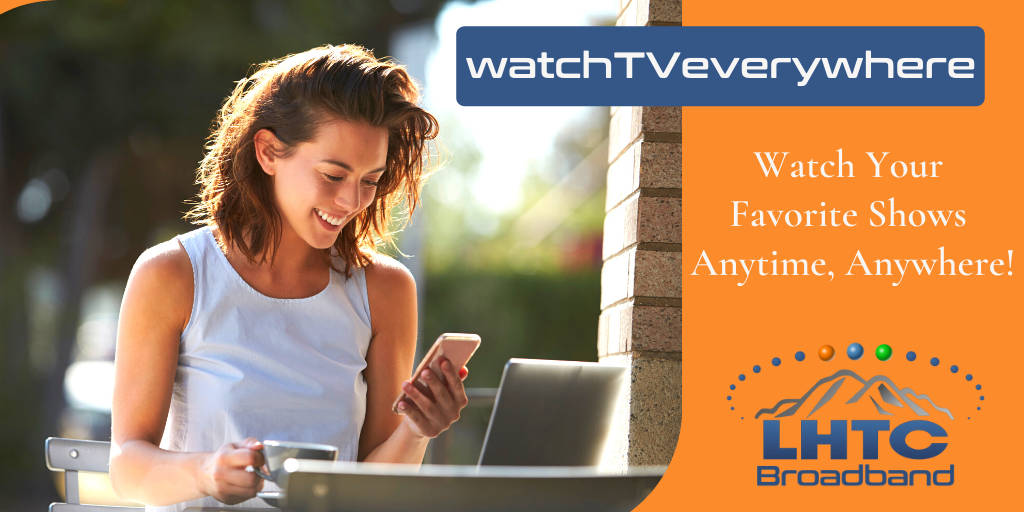 Currently, many families are spending their days at home in front of the TV. We've all had that problem, where each member of the family wants to watch a different live show, and if you don't have control of the remote, you may end up missing it. Well, we have a solution to that problem, and that's with watchTVeverywhere (WTVE). With your current LHTC Broadband cable subscription you have FREE access, that's right, FREE access to WTVE services.
What is WTVE you may ask? It's a service that gives current LHTC Broadband TV subscribers access to view their favorite TV programs on their laptop, PC, tablet, or smartphone anytime or anywhere. When using WTVE there isn't a limit to the number of devices that can be on the account at one time. However, some TV networks may limit the number of devices per account when trying to view a show.
How do you access WTVE? A one-time registration is the first step to start using WTVE. Go to www.watchtveverywhere.com and select LHTC Broadband as your cable service provider from the drop-down menu. Next, you'll need to have your last invoice on hand. From your invoice you'll need your account number and the last name on the account. Finally, click "Register" to start the registration process. Once you've completed the registration process you can log into your WTVE account. Choose a TV Network you want to watch, and you'll see a list of available programs. You can also download TV network apps on your cellphone and tablets to go directly to those channels.
What sets WTVE apart from other streaming services, such as Netflix and Disney+, is that you can watch your shows live, or if you'd happen to miss your show, the episode will be able to be viewed within days of the original premier. It's important to remember that you can watch any WTVE program as long as it's on a network that's a part of your current TV subscription. Also, there are some networks, such as ABC, that don't allow you to watch live TV, but you will be able to view any episode of your favorite show from the current season the next day after it premiers.
Also, if you subscribe to HBO on your LHTC Broadband TV account, WTVE will allow you to access HBOMax for free. HBOMax includes original movies and series, as well as, many new movie premiers that are set to release in theaters. With HBOMax you're getting exclusive access to these new movies at no additional cost.
For more information on how WTVE works and how you can access it, visit our website at, watchTVeverywhere | LHTC Broadband. If you have any other questions, contact our office today and we'll be happy to answer your questions.
On Thursday, August 6, the Mountain Laurel Chamber of Commerce (MLCC) hosted a Ribbon Cutting Ceremony for LHTC Broadband's New Corporate Offices overlooking the beautifully remodeled Caddie Shak at 101 Laurel Highlands Place in Donegal.  Members of the MLCC, sister chamber's, local officials and members of the community toured the new facility that brings together both LHTC Broadband's business offices, that were in Indian Head and Stahlstown, along with its LHTC Media operations. The building includes a customer care center for LHTC Broadband customers to pay bills, pick up equipment, learn about new services, and discuss their accounts with customer service representatives. It will also be home to the new LHTC Media studios for video and broadcast production.
LHTC Broadband's President & CEO, Jim Kail, stated that this was an important day in the Company's long history.  He went on to say "Over the years, the Company has been investing in the communities we're privileged to serve, which started with the modernization of our plant facilities shortly after I joined the Company nearly 18 years ago. The building is the capstone of the modernization effort." Kail also stated that "None of the Company's achievements would have been possible without the loyal support of customers, the hard work of our employees, and the trust and confidence placed in the employees by the Company's Board of Directors and shareholders."
MLCC Executive Director Kris Enberg stated, "We are excited to be hosting this event which fits perfectly with our mission to enhance the economic growth and development of the business community by offering a variety of services and programs to meet the needs of local businesses, residents and tourists and for the opportunity for the membership to gather as business leaders during the ongoing pandemic."
Everyone at LHTC Broadband would like to thank those in attendance for taking time out of their busy day to tour their new offices. Special thanks to fellow members; STC Company, Shari Bukovac Bookkeeping and Foggy Mountain Lodge & Restaurant for their generous contributions to the ribbon cutting.  Special thanks to Julianne Brown of Marinades Catering for catering the luncheon.
The MLCC wishes LHTC Broadband continued success in their new endeavors and looks forward to working with them as economic leaders in the community for many years to come.