Laurel Highland Total Communications, Inc. broke ground on Thursday, July 12th for its new corporate office building that will be the headquarters of its Pennsylvania and West Virginia operations, including LHTC Broadband and LHTC Media, Inc. Jim Kail, President & CEO, was joined by the Board of Directors, employees, local and state officials, and the Mountain Laurel Chamber of Commerce for the groundbreaking ceremony. The new facility will bring together two of LHTC Broadband's business offices, which are currently located in Indian Head and Stahlstown, along with its radio station operations, 1480 WCNS & 910/98.7 WAVL located in Latrobe. The new building is located on the property next to the Caddie Shak Family Entertainment Center in Donegal that the Company purchased in 2016. Kail stated, "This is an important day in our company's history. The building project that we are about to undertake should be viewed as part of our company's commitment to the local communities we serve. We've been doing business in this area since 1908 and the significant investment we're about to make in our new corporate facility is a good indication that we plan to be here for many years to come."
The building will include a customer care center for LHTC Broadband customers to pay bills, pick up equipment, learn about new services, and discuss their accounts with service representatives. The building will have a separate entrance for LHTC Media, Inc., which operates 1480 WCNS & and 910/98.7 WAVL, and, in time, both stations will be broadcasted from the new facility. The new building will be occupied by over 50 employees.
Laurel Highland Total Communications, Inc. has grown significantly over the years and is the parent company for fifteen subsidiaries including the telephone, television and Internet operations doing business under the LHTC Broadband in Laurel Highlands, Yukon, South Canaan and Lackawaxen, and six radio stations; 1480 WCNS and 910/98.7 WAVL in PA and 94.3 WRLF, 100.9 JACK, 1490 WBKE, and 920/ 95.7 WMMN in WV. It also owns and operates the Caddie Shak Family Entertainment Center in Donegal. The planning and construction of this new state-of-the-art building will not only help the group of companies operate more efficiently but will also contribute to the economic growth and development of the local communities they serve.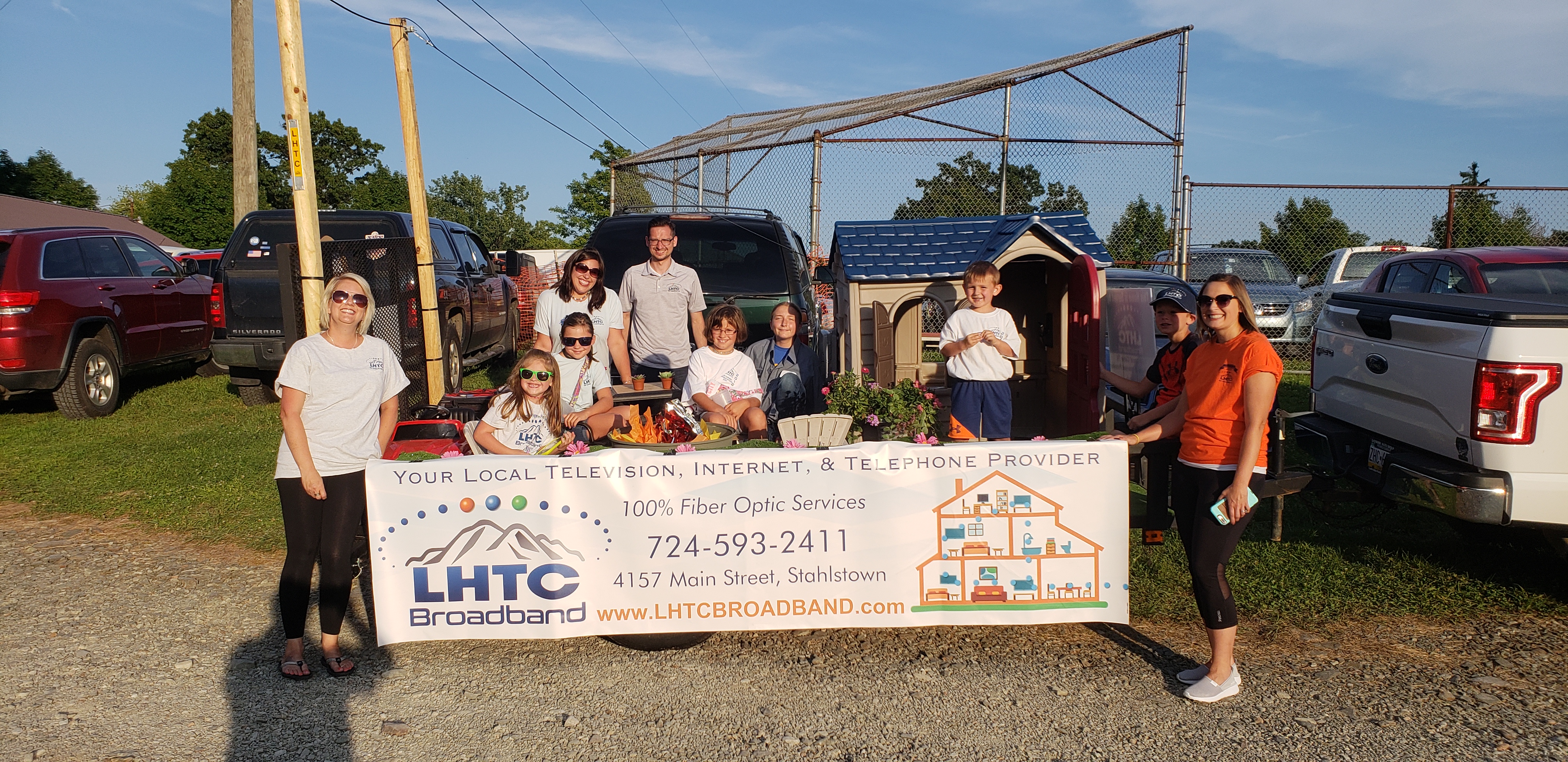 What brings a community together more than the local fireman's fair and parade? Our local Volunteer Fire Department has been holding this event for 57 years! It attracts residents from neighboring communities as well because of its annual parade and fireworks display.
This year LHTC Broadband participated in the Chestnut Ridge Volunteer Fire Dept's 57th Annual Fireman's Fair Parade. The parade, which is an hour long, feature's firetruck's, antique cars, and of course this year, our float! This parade even has its own judging stand for Best Rescue/Squad Truck, Best Pumper Truck, Best Band, Best Show Car, Best Equestrian, Best Novelty and Judges Choice. The variety and excitement of the parade is enjoyable to kids and adults alike.
Our float was put together by our Marketing Department with the help of the guys from the Technical Operations Department. It was a replica of what a typical home in the LHTC Broadband area would look like with fiber optic services ran from the pole to the home. It featured a tiny house, green grass, potted flowers and even seating around the campfire. The tiny telephone pole was strung with fiber to the ONT mounted on the tiny house. While traveling along the parade route, our pretend technician worked on finishing the install while the other kids on the float threw candy and employees handed out LHTC Broadband Koozies.
While our float may have not impressed the judges enough to place this year, we will be back again next year with a new float!